14 décembre 2010
I had an interview with a new zealander,about his country and is cultur. his name is john Key. Thus i retranscribe you that he said.
-Me : What do you think about your country ?
-John : Well, i love my country because it is very green and the people are very cool and funny and also because the culture is very interesting. The rugby is a "menber" of our culture, and i do rugby.
-Me : You spoke about your culture. Can you say me more please ?
-John : In the culture there is also the culture of Maori.
They are indians who are come from the Polynésia in the eighth siecle. They are passed on us their customs : Tattoos, Dance and jewels. But me i prefer culture of rugby, i was born inside !!
-Me : Thank's John for this interview and i hope that i'll see you soon
-John : You welcome
best regard.
it's a maori :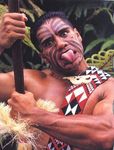 13 décembre 2010
I propose you, after your matches, to do a tourist stay to better discover this marvellous country.
There are here a few tourist sites very interesting for a stay in the south of the New Zealand :
-The capital Wellington : visit the capital Wellington, with the government, the biggest museums whit all the nationals tresors in the famous "Te Papa". Cuba street is the ideal place for the shopping. Don't forget Thorndon the historic district, and the Victoria mount with his magnifical view on the city.
The south island : Queenstown is specialized in the adventure tourism, for this it is called the capital of extrems sports. This city, in the south-west of the island, in addition is built around an inlet called Queenstown Bay on Lake Wakatipu.
You can practice differently sports such as : rafting, speedboat, paragliding, parachute, VTT...
-You go Finally to the island of the big barrier and test all the pleasures of the magnificales beaches,and the natural park.
For this trip you will be stay 10 days after after your matchs.
11 décembre 2010
I will present you my favorite team of rugby : it's the FRANCE.

The france is in the pool A and she opposed against differently contry like :
-Japan
-Canada
-New zealand
and Tonga
The france will be maybe in difficulty against the New Zealand!! However she has a little chance to win because in the team there is the famous Chabal and also it's a united team!!!
This video is amazing no??
Otherwise this worldcup takes place in new Zealand, thus the new zealander have more chance to win.
Match of the France : - it's the saturday september 10th against the Japan at 18h in the North Harbour Stadium (North Shore)
- it's the sunday september 18th against the Canada at 20h30 in the Mclean Park (Napier)
-it's the saturday september 24th against the New Zealand at 20h30 in the Eden Park (Auckland)
-it's the saturday october 1st against the Tonga at 18h in the Wellington Regional Stadium(Wellington)