14 décembre 2010
I had an interview with a new zealander,about his country and is cultur. his name is john Key. Thus i retranscribe you that he said.
-Me : What do you think about your country ?
-John : Well, i love my country because it is very green and the people are very cool and funny and also because the culture is very interesting. The rugby is a "menber" of our culture, and i do rugby.
-Me : You spoke about your culture. Can you say me more please ?
-John : In the culture there is also the culture of Maori.
They are indians who are come from the Polynésia in the eighth siecle. They are passed on us their customs : Tattoos, Dance and jewels. But me i prefer culture of rugby, i was born inside !!
-Me : Thank's John for this interview and i hope that i'll see you soon
-John : You welcome
best regard.
it's a maori :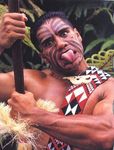 Commentaires sur Interview!!!